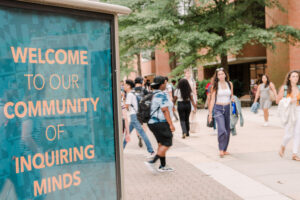 What is the Office of Equity and Civil Rights (ECR)?
The Office of Equity and Civil Rights (ECR) is responsible for promoting and coordinating the University's core values of inclusive excellence and equity, and has primary responsibility for managing UMBC's efforts related to Sexual Misconduct/ Title IX as well as other civil rights issues, including discrimination, harassment, hate and bias. The office's mission is to ensure compliance with sexual misconduct and non-discrimination laws, regulations, and policies through prompt, fair investigations, education and training, and outreach and engagement. ECR also provides supportive and protective measures to those involved in and impacted by Title IX matters.
Where is your office located?
Please contact our office to make an in-person appointment. ECR is located on the 9th Floor of the Administration building.
What services or resources does your office provide?
The UMBC community has a variety of resources available on campus and beyond to support students, faculty, and staff who are impacted by equity and inclusion issues. Our team is here to assist you in finding the right community resource and/or support for your needs and situation.
If you have more questions, please contact ECR and see additional FAQs below: